You want to feel comfortable AND confident when you get dressed.
But don't know where to start…
You've got a closet full of clothes, but only seem to wear the same 5 outfits on rotation.
So, you decide to go shopping, but end up in frustration cause nothing seems to work.
→ You've given up
again
and surrendered to the leggings Goddess and light all your pants on fire.
So, you go back to blaming your body (cause that's gotta be it, right??).
NO MORE!!!
You DESERVE to wear clothes that fit the body you have NOW and to stop waiting for "someday".
You DESERVE to feel energized and confident in an outfit, no matter your shape or size.
You DESERVE to feel more confident in investing your hard earned money in a wardrobe that you KNOW you are going to love and wear.
You DESERVE to not let your clothes suck your energy for one more damn day.
You are a badass that DESERVES to feel confident when you get dressed for the day.
You don't need to change your body...you just need to learn how to dress it.
Of course you want to FEEL & LOOK good.
You've bought MORE in hopes that you're going to figure out this "style" thing. 👉 All it's done was add to the clutter of clothes you never wear.
You've decided that your body is "weird" & nothing fits right, so why even bother. 👉 So you've settled for your leggings and hoodie uniform.
You've googled how to figure out your body shape and how to dress it. 👉 But all you got was overwhelmed by all the "rules" and still have NO idea what body shape you have (also...FYI, it has NOTHING to do with size).
Guess what...our bodies are made up of shapes and our clothes are made up of shapes too!
We wouldn't put a square tablecloth on a round table...and then blame the table for the cloth for not fitting right.
The same goes for your body & the clothes you put on it.
If you want to
stop
feeling frustrated with your wardrobe and
start
feeling excited about how easy it is to get dressed…
You don't need to go on a juice cleanse.

And you don't need to abandon jeans and only worship the leggings Goddess.

You don't need to spend thousands of dollars on your wardrobe.

You don't even need to lose weight.
INTRODUCING...
The embrace & dress your body shape course
A step by step self-guided course that helps you to:
accept & embrace your unique body shape. You don't need change a damn thing.
know what cuts and styles of clothes work best for you.
find outfits that are going to work for your body!
stop buying clothes that you never wear.

feel more confident when you get dressed, no matter your size or shape.
No more waiting for "someday"—you deserve to feel great today.
MODULE #1 - Embrace Your Body
1 hour workshop
A workshop that takes you through what and who impacts our relationship to your body. What "embracing your body" means for you, why it's important and how it impacts your style/wardrobe. Plus a workbook to integrate what you've learned and access to resources (educators, influencer, books, podcasts, etc..) to continue your body acceptance journey.
MODULE #2 - Identify Your Body Shape
20 min video
A foolproof way to identify your body shape with a quick video, guide and seeing REAL bodies! You'll be able to have a neutral & judgment free way to look at your body that has nothing to do with size. If you need extra support to identify your shape, then I provide that extra support.
MODULE #3 - Dress Your body Shape
Approx 40 min workshop per body shape
Once you determine your shape, you go to the corresponding body shape tutorial. Confidently know what fit and styles of clothes work best for you, even if your body changes. Plus guides, outfit formulas for every body shape and a dressing room cheat sheet to keep in your back pocket or purse!
MODULE #4 - Deep Dives on Fit
Total 1 hr combined (each video between 8-12 min)
Be able to better analyze & assess the style and fit of tops, pants, layering pieces, skirts, bathing suits, etc... for all shapes and sizes. These are deeper dives into assessing fit and are great to watch right before a closet audit or a shopping trip.
BONUS!
Style Tips
Total 1 hr combined for 3 workshops
Know what boots to wear with differing bottoms in my "bootcamp" workshop. Confidently create outfits in my "10 style tips to add to any outfit" workshop. Plus, effortlessly create balanced outfits by using the golden ratio in my "proportions" workshop.
BONUS!
Ultimate Shopping Guide
A comprehensive & inclusive guide for brands to shop, no matter your size, budget or goals. Find brands that are sustainably made, size inclusive, great for work attire, etc....Plus a section for those in diverse body abilities and gender.
PLUS SO MUCH MORE...
✓ Body Shape & Outfit Guides to create fun and effortless outfits, no matter your size. You will be able to download and print off your body shape guide, as well as the best outfits to try for your shape...and know how to create outfits that BREAK ALL THE RULES.
✓ Dressing Room Cheat Sheets to print off and keep in your purse while you shop!
✓ Workbooks & Resource Guides to continue your body acceptance and liberation journey.
I'M AMANDA.
I married a man that I fell in love with twice and I am also a mom of two that always has a "healthy" stock of gin and bacon in my kitchen. Should I also mention that I have a slight addiction to red lipstick?
As a Style Coach, I've worked with hundreds of people cut through the BS and shut down their negative self-talk. I help you dismantle patriarchal and toxic beauty standards so that you can fully embrace the body you are in.
You get to dress the way YOU want. There is no right or wrong way. You don't have to look a certain way to feel like a badass in your clothes.
We are always changing and evolving and sometimes it can be hard to catch up. So, I help my clients & students dig down deep and connect to all of their internal shiny bits.
I want you to connect with who you are.
How you want to feel.
Then find the clothes that express all those beautiful shiny bits.
Screw the rules. Screw getting it wrong. Screw judgement from others.
Be the rebel that has the audacity to pave your own path. Make your own rules and unapologetically express who you are in all your glory.
Be you.
"I didn't have to fade into the background or hide my body and myself from the world.
I no longer need to compromise my style based on what others feel I should be wearing, I'm free to be me."
Tammy Cook
"I didn't think I deserved to buy clothes that fit me or looked good until I lost weight. But after some hard internal work, I decided the time was now to be worthy of living my best life. I worked through my mental blocks & barriers to permit myself to buy & wear the clothes that fit me. Clothes that brought me joy and connection with my inner self.
Andrea Tolan.
You don't need to change a DAMN thing about your body, you juts need to change your clothes.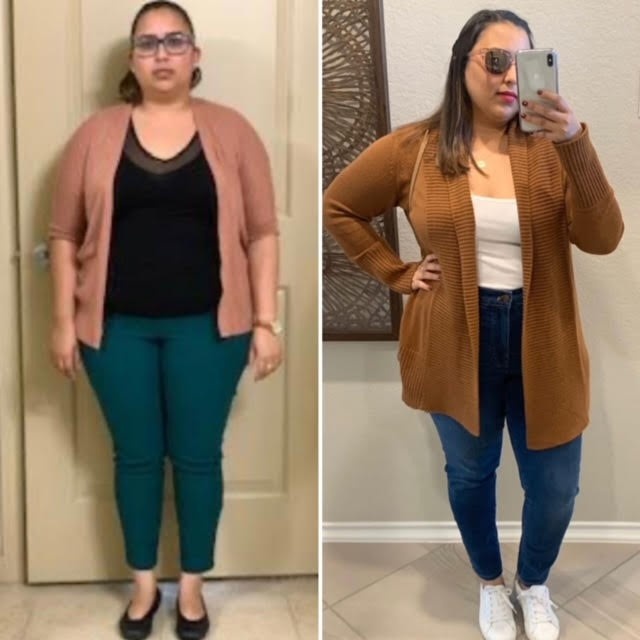 IS THIS COURSE RIGHT FOR YOU?
If you feel uninspired, frustrated and guilty when it comes to your wardrobe that's because no one has taught you how to dress your specific body shape, especially if it changed.
(They've been too busy convincing you it is your body that needs to change.)
When you start to understand that "fit: is all about finding the shapes that work best for your body shape, you can start to:
Look at your body in a more neutral and compassionate way

Assess which necklines, hemlines, fabrics, patterns and styles of clothes work best for your shape

Make sure your tops, bottoms, layering pieces, etc... fit properly before you fork over hundreds of dollars on clothes you never wear.

Create outfits that work for your (totally loveable) body and throw out the rulebook that tells you what you're "allowed" to wear

Embrace your body (no matter your size) and easily build a wardrobe full of clothes you love to wear….
...which is exactly what you'll learn inside my self-guide online Embrace & Dress Your Body Shape Course.


How long do I have access?
My body is weird and it's impossible to find clothes that I feel good in. I've tried so many times and I always end up being disappointed, so why bother?
It feels too hard and overwhelming.
"I don't have time for this. I need to deal with the never ending pile of laundry, binge watch Stranger Things and scroll social media for 15 minutes (which turns into 2 hours)."
I don't have the money to invest in a new wardrobe right now.
Sliding Scale Pricing
Style & a supportive wardrobe should be accessible for all.
By offering a sliding scale, I aim to create an environment that recognizes and respects the diverse financial situations of potential partcipants. This approach acknowledges that economic barriers should not hinder individuals from engaging with their style and wardrobe.
It also allows for a more equitable distribution of resources and opens up opportunities for individuals who may not have otherwise been able to participate due to financial restraints.
A sliding scale also promotes a broader conversation about class dynamics and invites participants to reflect on their own privileges and economic realities.
A sliding scale is used to encourage people to pay according to their available resources. Those with greater financial privilege contribute more, allowing those with less access, to pay according to their means.